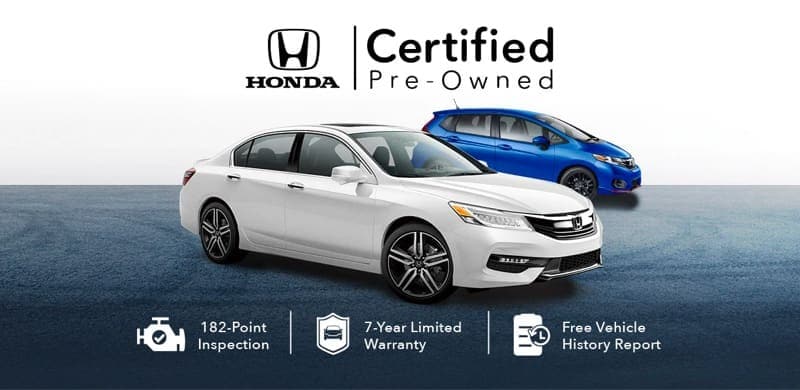 Certified Pre-Owned
Nothing compares to the quality of a Honda. No other program comes close.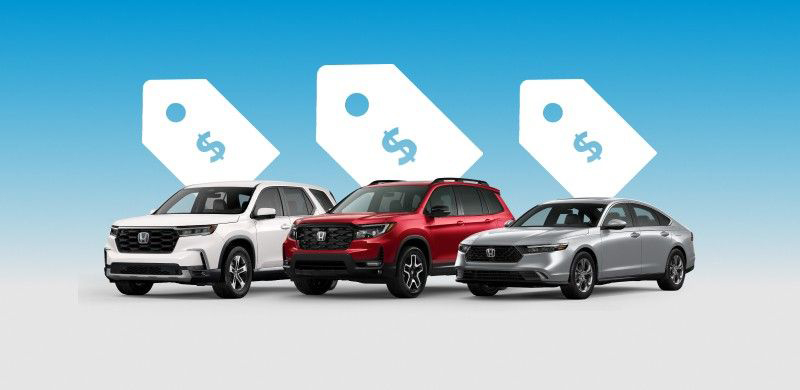 Current Offers
See this month's featured current offers going on now on new Honda vehicles.
Our Reviews
Picked up my new CRV last night! Thank you Legends Honda for making this the most all around best car buying experience ever! My sales guy Henry was super helpful and the manager Zack was excellent! Will tell everyone to go visit you for the best possible experience!
Had a great experience here! Walking into a car dealership can be kind of intimidating, but Lauren made the process of figuring out what was right for me and my budget super easy and pressure-free! Aaron was also really helpful in explaining everything I was signing and answering any questions I had! I don't appreciate used car prices right now, but I do appreciate this team!
Looking to buy a new car with absolutely zero hassle? This is the place! I'd been DREADING purchasing a new car because of the current market and how many dealers I'd spoken to who kept tacking on additional fees that were 'necessary.' Based on other positive feedback from friends, I googled their location to see inventory of Honda CRV's and lo and behold my perfect car was on the lot. I called in at 10 am on a Monday and had a call back from Miranda within 5 minutes. She offered to have her teammate Marissa drive the car to my house to test drive it and make sure it was what I wanted since I hadn't seen a new 2023 version. It was to my house by noon and purchased off their lot by 4:30. Miranda could not have been more responsive and accommodating to my situation. Made me feel empowered I was making the right decision. Marissa knew every answer to my questions and was very thorough and detailed when walking me through the paperwork. Plus my administrative fee was $299 compared to the few other KC dealerships I'd looked at where most were $1000+ . Overall I have to say I enjoyed this process of buying a car because of their customer service skills and . 100% will recommend this location and these two women to anyone in the car market!
They were very nice and told me it would take about an hour and just before the hour was up they had completed the job. I am extremely happy with Legends Honda!!
Chad is the highlight of our visit to this dealership. He is kind, polite and always goes the extra mile. Thank you Chad!
Miranda (Sales Director), Aaron (Product Specialist) and Esmeralda (Sales Mgr) were all amazing!!! They really did make buying a car so laid back, comfortable, and fun. We have never had this type of an experience before purchasing a car. They were "real" and a joy to be around. Thank you so much! BTW: Loving the 2022 Honda Pilot (SE)! And my kids call it the "BatMobile" haha!
We recently purchased a pre-owned vehicle from Legends Honda, and highly recommend this dealership. Lauren is very knowledgeable about the product line, and asked thoughtful questions about the model we were interested in. Both her and Dylan worked with us to ensure we received a fully serviced Odyssey that will provide many trouble-free miles ahead. From test drive to payment, it was a stress-free process. A refreshing change from the typical dealership experience most people imagine. Well done Legends Honda team!
I Had a great experience working with Marissa, great communication throughout the whole process
I was early and they got me in right away. I believe Chad helped me. Very nice. I love my car and love the dealership. Thank you for me beautiful car
We got our new 2023 CRV EX-L from Legends Honda. This is our 3rd vehicle and the experience as been awesome. Friendly associates and pretty fast process. Thanks Zach!!!
Chad has been my point of contact at Honda service since the summer of 2021. I had my beloved 2016 Honda Civic and my current 2019 Honda Civic serviced here since July 2021 and I've always been AWED by his service. Chad treats you so well. In the last year and a half, I've always been treated with professionalism, but I've always felt as if I'm a friend. Chad has always gone beyond expectation to assist my needs, even if I show up on the wrong day or something, or I misunderstand something from my purchase agreement from my new car (which has happened often recently.) Chad always respond with grace and helps beyond what is expected in his job title. Chad makes sure that you are taken care of in as timely a manner as possible, with whatever he can to help you out, and make your service as inexpensive as he can, even if its not necessarily beneficial to Honda. Chad understands what customer service means in the whole and true sense. Not lip service, or in a superficial way, and that's sorely missed in today's world. I've been really grateful to have my vehicles serviced here the last year and a half. In fact, I don't live near - it would be more convenient for me to go to a couple different dealerships that are closer, but I've chosen to discontinue my service with other Honda dealerships and stay with Chad at Legends Honda over the last year and a half.
Really appreciated the sales process at Legends--specifically Lauren. She was very patient, helpful, knowledgeable, and took as much time with me as was necessary. Everyone was very accommodating and friendly. Great experience! Would recommend and would buy from Legends Honda again.
I Had an amazing experience with Miranda, Aaron and Dylan! Love my new car!!
If you looking for a car go see Lauren. She will be able to answer all your questions.
I am so grateful for Honda Legends and their amazing team of employees. Duce Lett their GM is the best! He helped me in a time of need and found me the perfect car after my car got totaled! I was in a bind and he was so kind to me to take the car for a few days to test it out to make sure it was the one. He introduced me to the salesman, Greg Luis who is also too notch! He is so sweet and very knowledgeable. He gave me confidence when purchasing my new car and made sure to go over all the features and details of the car. He was not a pushy salesman at all and I really appreciated that so much. Dylan the finance manager was simply amazing too and worked with me in this time of need! He made the process of financing my car so easy. He is also so knowledgeable and confident in what he does! These 3 guys are incredible to work with & I am so thankful I went to Legends Honda to look. If you are looking for a car, please go to Legends Honda. They are the best! Thank you for the great experience with purchasing my new 2022 Honda CR-V, it's such a great ride.
Zachary and Henry were great from the start! Loved having the same 2 people helping us the whole time we were there. It really made the buying process feel personal.
Legends Honda truly gave me the best experience I've ever had at a dealer. To begin, they stated they weren't on commission. This made the process go smoothly as I didn't feel like I was being pressured or sold. I have a very busy work schedule and came in after work around an hour before close. I show up to see the Honda I called about earlier that day all clean and waiting for a test drive. These ladies ended up staying an HOUR after close to get me in the car THAT NIGHT. All in good spirits too! So…I wanted to thank the sales woman - Allison, the product specialist- Marissa, and the sales manager for a SEAMLESS, STRESS-FREE, and POSITIVE experience demonstrating going above and beyond with customer service. I am so excited to drive my first hybrid and rock it at 45 mpg with the sport trim. Thanks again!
We recently purchased a new Honda Pilot from the kind people at Legends Honda. We worked with Lauren and Dylan who made the process quick and painless. They were knowledgeable and answered all of our questions. Highly recommend! Also, if your Honda needs servicing, Tim and his team are top-notch!
Great experience! Dylan and Aric were really helpful.
EJ and Zach were fantastic! My husband, Angel, and I just bought a new Honda Accord. They were amazing! Love the car. Thank you to Zach and EJ!
I have been in the market for a new vehicle for awhile and have talked to a lot of dealerships and Zach and Greg at Legends Honda were absolutely the easiest, most chill dudes to work with. Zach helped get me into the right vehicle at MSRP (!!!) and it was a super easy process… the worst part was waiting for my new Civic EX-L to come in on the truck. Once it arrived, Greg showed me the vehicle and he was extremely knowledgeable and got me squared away with the car. During the entire buying process I did not feel pressured to buy anything I didn't want and I felt the guys listened to my situation. Do not hesitate to stop in and see what they can do for you.
Miranda and Aaron were outstanding to deal with; I recommend anyone looking for a Honda vehicle to make the trip to Legends Honda and see them!
Amazing service with Chad! Chad has to be the most professional and thorough Service Writer in the business. Wouldn't go anywhere else!
What a great place to buy a car! Marissa and Miranda made the process of trying out and buying my new Honda Civic SI about as easy as it gets. From test drive, to purchasing, to financing, everything went smoothly. Marissa even helped me get my old car back to my house. Highly recommended!
Great experience. Zach and EJ made buying our car fun. Took time to explain everything to us. We would highly recommend them to anyone buying a Honda at the legends.

Welcome to Legends Honda
The expert staff at Legends Honda is here to help pair you with the perfect new or used Honda that you'll be happy with for years to come. Our Honda dealership in Kansas City, KS, believes in offering you a low-stress car-buying experience. Take your time browsing our selection of new, used and Certified Pre-Owned Honda vehicles, or schedule a service appointment with our one of our technicians. No matter what brought you to our Kansas City Honda dealership, we're confident that we'll exceed your expectations!
Schedule a test-drive of your favorite Honda model to see how you feel once you're behind the wheel. At our Honda dealership, you can buy a new Honda Civic, or check out the new Honda Accord. If you'd like an SUV with a capacious cabin, then don't hesitate to test-drive the new Honda CR-V or Honda Pilot. We also have Honda Ridgeline pickup trucks for those looking for something with impressive capability. If you're shopping on a budget be sure to check out our selection of used Honda models, as well as Certified Pre-Owned vehicles. We also have pre-owned makes and models of all kinds, so you're not limited when you come to Legends Honda. Visit us to speak with our Honda financing team about your loan and lease options today!
Plus, no matter if you're shopping new or used, you'll receive the same first-class experience. This new and innovative approach is unique to and is designed to take stress and confusion out of the car-buying process. This simple three-step process has revamped car shopping as we know it and ensures that you'll leave our lot with the Honda that's best for you.
If you've been driving your Honda for a while and it's time you come in for some routine maintenance, we can help you there, too. Our state-of-the-art Honda service center has a team of highly skilled technicians that can keep your Honda in top condition. From regular services like oil changes to brake repairs and engine work, our team can truly handle it all. Before you come in, be sure to check out our selection of Honda service specials to see how you can save. And if you'd like to tackle some repairs at home, we're your go-to resource for any OEM Honda parts you may need.
Legends Honda is located at 10050 Parallel Pkwy in Kansas City. This is an easy drive away for folks coming from Overland Park, Olathe and even across the state border from Missouri. Upgrade your daily commutes with a new Honda today, stop in for Honda maintenance and repairs!
Get Directions To Legends Honda